InYo: Journal of Alternative Perspectives Dec 2003

New Book -- Martial Arts in the Modern World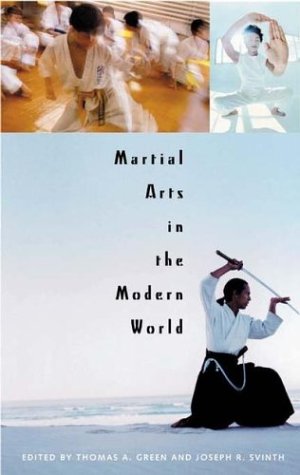 Thomas A. Green , Joseph R. Svinth editors.
Book Code: C8153
ISBN: 0-275-98153-3
336 pages , figure, photos
Praeger Publishers
Publication Date: November 30, 2003
List Price: $39.95 UK Sterling Price £25.80
Media Type: Hardcover
Dedication: To John F. Gilbey, who inadvertently showed us the way
Total length of introduction, text, appendix, and notes: 88,320 words. With bibliography: 97,607 words.
Flesch-Kincaid of text: mid-30s.
Structure (Note: Subheadings do not appear in the book itself)
Front material
a. Author's bio-sketches
b. Acknowledgments
c. Note on romanization
Introduction
Part I. The Role of Folk History in the Martial Arts
Sense in Nonsense: The Role of Folk History in the Martial Arts–Thomas A. Green
Part II. Western Physical Culture Impacts Asia
a. A Study of Chinese Physical Culture, 1865-1965-Stanley Henning
b. The Spirit of Manliness: Boxing in Imperial Japan, 1868-1945–Joseph R. Svinth
Part III. Asian Physical Culture Impacts the West
a. Professor Yamashita Goes to Washington: Judo Comes to America—Joseph R. Svinth
b. The Circle and the Octagon: Maeda's Judo and Gracie's Jiu-Jitsu–Thomas A. Green and Joseph R. Svinth
c. The Myth of Zen in the Art of Archery–Yamada Shoji
Part IV. Martial Arts as Muscular Theatre
a. The Lion of the Punjab: Gama in England, 1910–Graham Noble
b. The Little Dragon (Bruce Lee)–James Halpin
Part V. Martial Arts as Cultural Artifact
a. Surviving the Middle Passage: Traditional African Martial Arts in the Americas–Thomas A. Green
b. Kendo in North America, 1885-1955-Joseph R. Svinth
Part VI. Martial Arts Enter the Olympics
a. Olympic Games and Japan–Kano Jigoro
b. The Origins of the European Judo Union–Richard Bowen
c. The Evolution of Taekwondo from Japanese Karate–Eric Madis
Part VII. Martial Arts as Weapons of Empowerment
a. Women's Boxing and Related Activities-Jennifer Hargreaves
b. Freeing the Afrikan Mind—Thomas A. Green
Part VIII. Martial Arts Enter the 21st Century
a. Action Designs: New Directions in Fight Choreography-Tony Wolf
b. Combatives in the Early 21st Century U.S. Military—Joseph R. Svinth
Epilogue: Where We Go from Here
Appendix
Bibliography
Index
***
If you routinely read "Journal of Asian Martial Arts," EJMAS, and "Martial Arts of the World: An Encyclopedia" then this book will seem comfortable and familiar. On the other hand, if your main source of information continues to be Soke Sez, then this puppy might yank your chain a bit.
The publisher, Greenwood: http://www.greenwood.com
---