InYo: Journal of Alternative Perspectives June 2000
A letter from the Indian wrestler Ranjit Singh to the British historian Balbir Singh Kanwal, April 8, 1981

Copyright © 2000 EJMAS. All rights reserved.
Ed. note: Thanks are owed to Balbir Singh Kanwal, curator of the International Punjab Heritage Museum in Ilford, Essex, England, both for sharing the letter and for providing much of the material found in the footnotes.
As for why Ranjit Singh is worth remarking, well, one of his pseudonyms was Bhu Pinder, and while wrestling under that name in Seattle in 1937, he was apparently involved in the first mud-wrestling match ever held in the United States. According to a story promoter Paul Boesch later told Sports Illustrated writer Joe Jares, what happened is that the crew used too much water on the dirt used for a "Hindu match" between "Prince Bhu Pinder" and Gus Sonnenberg, and the rest, as they say, is history.
My dear Kanwal,
Yours of March 10, 1981 to hand, it is the old age that has brought slowness in my actions, not that I ignored you. And now you are being so persistent about getting an answer from me, so after putting it off till tomorrow for many times, I am compelled to answer your letter. V. Farbahi is in Distt. Sangrur near Barnala. [EN1] As far as I know, Gora Partapa was the best wrestler of his time in Malwa, [EN2] as after beating him Gama at once gained popularity and became Rustam-e-Hind. [EN3]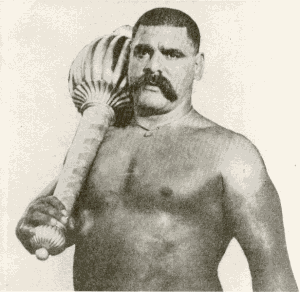 The Great Gama, 1916
My bio-data runs thus. I was born 16th August 1912. My parents were very healthy and strong, especially my mother. I was very quarrelsome and rowdy in the childhood, always challenging and wrestling with boys older in age and strength. When I was in the ?th class in Sangrur I used to make 1500 dands [EN4] and 1500 baithaks [EN5] and in the whole school only three boys of the 10th class were stronger than me. After passing matric [e.g., graduating from high school] I joined Mahindra college in Patiala and became the pupil of Great Gama in 1930-1931. In 1934-1935 I fought for the championship of the Punjab University. No wrestler could stand more than one and a half minutes and I was declared champion Punjab University heavyweight wrestler. I beat Sardar Khan, the champion of Jullandhar [a city in Punjab] in Allahabad, and Press Dangal and Bara Sohan Singh, who was second to Goonga, in Tata Nagar, in Dhotian. [EN6] This is the same year I beat Chotta and Bara Pooran Singh in Calcutta. [EN7] Then in 1935-36 I left college as a graduate and beat Raj Bansi Singh, champ of Calcutta. Then via Burma, Malaya, Hong Kong, Shanghai, where I beat Arjan Singh Dhoti [EN8] and Ganda Singh Johal [EN9] on my way to Canada. In Tokyo I very foolishly accepted a challenge from the champion of Japan, Kimon Killa Kudo, who had an easy victory over me in jiu-jitsu (30 minutes). [EN10] I stayed in Japan for a fortnight and learnt the tactics and again fought Kudo, the match was drawn and it was a good show. First time I was a novice in the jiu-jitsu in Canada I fought my first fight with Bronko Nagurski, champ of the Pacific Coast, and beat him very easily, though he had a massive build and I looked insignificant before him. He was a body builder and a football player, he lacked the real wrestler's skill and strength. I wasn't on the program that night but his opponent failed to appear, so the management put me a new face against him and I at once became champion of the Pacific Coast in 1936. After that I had win after win. [EN11]
In 1936-37, I beat Louis Thesz, former world champion [sic; in 1936, Thesz was a future world champion], Lefty Bloomfield, champ New Zealand, Vincent Lopez, the Mexican champ, and drew with Leo Savage, champ Texas. Beat Crusher Casey, the champ of world. I beat Jim Londos the world champion in 1937 in Chicago. In 1941 I beat Chota Gama [EN12] in Calcutta and drew with Goonga in the same year at Lahore. The match lasted for one hour and fifteen minutes. In all I have fought over six hundred wrestlers. In London I fought in ring [at] Blackfriars, [in] Brighton with Tiger Daula, in Manchester with Dick Shikat champion of Europe and drew with him. In Germany I fought with Willi Mueller, the champion of Germany for 7 years, and beat him after 2 hours 30 minutes in Berlin. In London I fought in the management of William Bankier, who knew Urdu and was very skilled man. [EN13] So Sir, this is all the outlines of my wrestling career which I have given up to now. I am living a retired but healthy and peaceful life in my village Dhilwan [in the Punjab]. I still take light exercise daily. My knees have gone little stiff and I can not sit properly. Otherwise I think I am still good for great many wrestling matches. I am sending you some of my photographs also.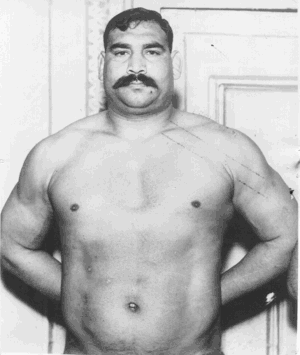 Tiger Daula
In case you are able to include me in your new print, then do not forget to send me a copy of the addition. My friend Bhajan Singh Pahelwan [EN14] is somewhere in London, you can trace him among the Aldgate, where the Indians are plenty.
Rest is O.K., with lots of kindest regards,
Yours sincerely,
/s/ Ranjit Singh alias Prince Ranji alias Rajah Ranji, ex-champion wrestler of the world.
There were five hundred good wrestlers in my time, all have gone except me.
---
Editor's notes
EN1. Barnala is a town in the northwest Indian state of Punjab. A distt. is a political entity roughly equivalent to an English county.
EN2. During the late 1880s and early 1890s, Kala Partapa and Gora Partapa were two well-known but unrelated heavyweight wrestlers from the Malwa region of the Punjab. During the 1940s, the famous wrestling writer S. Muzumdar frequently misspelled these names as Kala Pertaba and Gora Pertaba. See, for example, S. Muzumdar, Strongmen Over the Years: A Chronicle of Athletes (Lucknow: Oudh Printing Works, 1942).
EN3. Gama (real name: Ghulam Muhammad) became Rustam-e-Hind, or champion of pre-Partition India, in 1898. In 1910, he attained significant international reputation by defeating Ben Roller and Stanley Zbyzsko in London.
EN4. Dipping push-ups. A traditional exercise of North Indian wrestlers, the dand may owe its origin to the Zoroastrian practice of genuflecting to the sun, the supreme flame. The best work available in English on North Indian wrestling is Joseph Alter, The Wrestler's Body: Identity and Ideology in North India (Berkeley, CA: University of California Press, 1992); see also http://www-ucpress.berkeley.edu:3030/dynaweb/public/books/south_asia/alter.
EN5. Deep knee bends. The modern Indian record stands at about 3,200 per hour.
EN6. In 1918, a 19-year old wrestler called Goonga Pahelwan (literally, "Dumb Wrestler;" his given name was Ferozuddin, but disease had ruined his voice) shocked India by defeating the Great Gama's nephew Gama Kalloo. By the mid-1930s Goonga was past his prime, and in 1936, he even lost a match to an unknown German upstart named Edmond Kraemar.
EN7. Although Chota means "Junior" and Bara means "Senior," these were two unrelated heavyweight wrestlers.
EN8. Dhotian is a village near Amritsar in the Punjab. Arjan Singh was better known in North America as Arjan Dass, and he usually traveled with Tiger Joginder Singh. Although billed as Hindu wrestlers, both were actually Sikhs. (For what it's worth, most so-called "Hindu" wrestlers are actually Muslim or Sikh.)
EN9. As Ganda Singh Johal was a huge man as well as an excellent wrestler, it is possible that this victory was arranged.
EN10. Although born in Japan, Kaimon Kudo was raised in Seattle and lived his entire adult life in the United States and Hawaii. He was a legitimate judo black belt, and so far as I know he never lost a jacketed match to any professional wrestler.
EN11. In the New Yorker (November 13, 1954), A.J. Liebling wrote: "A Foreign Menace, in most cases a real wrestler, would be imported. He would meet all the challengers for the title whom [reigning champion Jim] Londos had defeated in any city larger than New Haven, and beat them. After that, he and Londos would wrestle for the world's championship in Madison Square Garden. The Foreign Menace would oppress Londos unmercifully for about forty minutes, and then Londos... would whirl the current Menace around his head and dash him to the mat three times, no more and no less, and… after the bout, the Menace would either return to Europe or remain here to become part of the buildup for the next Menace."
EN12. Although billed as "Gama Junior," this was actually Gama Kalloo, whom Goonga had beaten years earlier.
EN13. William Bankier, who was better known by his stage name of Apollo, had been a very competent music hall wrestler during the 1890s. He turned to promoting during the early 1900s, and by the 1930s he was among Britain's leading promoters of what was then known as physical culture.
EN14. Pahelwan is an Indian title meaning "wrestler."