Journal of Combative Sport, Nov 2003

Review of "Getting a Grip: Judo in the Nikkei Communities of the Pacific Northwest 1900-1950"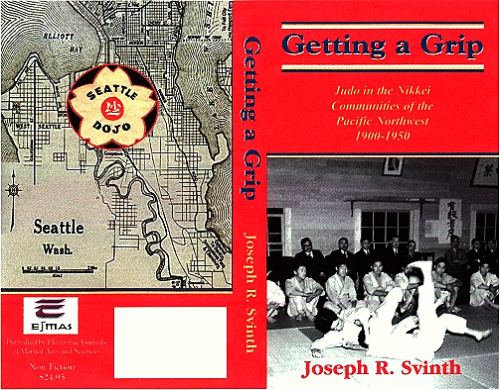 (Guelph, Ontario: Electronic Journals of Martial Arts and Sciences, with financial support from the King County Landmarks and Heritage Commission, 2003). Trade paper, 300 pages, with glossary, index of names, and 53 illustrations. $24.95. ISBN 0-9689673-0-2.
Review by Jason Couch. Copyright © Jason Couch 2003. All rights reserved.
I first opened Getting a Grip: Judo in the Nikkei Communities of the Pacific Northwest, 1900-1950 with hesitation. After all, I was not a judoka; I didnít know what "Nikkei" meant; I have never lived in the Pacific Northwest; and lastly, I have never really considered myself a history buff. So what was going to be in this book to interest me?
Quite a bit, as it turns out. Readers familiar with Joseph R. Svinthís writings from the Journal of Asian Martial Arts, EJMAS, and other print and online sources wonít be surprised by that answer. This volume pulls together the threads of much of his past research to weave a detailed history of a people and place. A living history, beginning by digging up the roots of much of todayís judo, but ending by conveying timeless lessons for practitioners of all styles.
It is composed of three sections: The Development of Kodokan Judo, First Generation, and Second Generation.

The Development of Kodokan Judo
The first section begins, logically enough, with the story of Jigoro Kano. This could easily have been a dull beginning, reciting what "everyone knows" about Kano. Instead, it approaches the creation of judo from a different angle: liberally mixing martial influences, philosophy, and anecdotal accounts to give a readable story of the founderís life and art. Since Kanoís philosophical teachings were so closely intertwined with his art, Svinth also briefly examined Kanoís moral outlook in the Philosophies chapter, which rounds out the first section.
First Generation
By all rights, Svinth should be best for known for his work on KRONOS: A Chronological History of the Martial Arts and Combat Sports. Fans of KRONOS will be especially pleased by the timeline given in "Stories of Early Days" that lists important events and gives an overview of what is to be covered in more detail later in the book. The concept works, as the histories of some of the smaller judo clubs are similar and could be confusing without this introduction.
This section is also composed of two other chapters, biographies of Yoshiaki Yamashita and Tokugoru Ito. The Ito chapter tells the story of a man who was not only an early leader of the Seattle Dojo (the nationís oldest existing), but also a well-known professional wrestler. To put Ito in historical perspective, he toured as one of the "Four Kings of Cuba" along with Mitsuyo Maeda, one of the most famous professional wrestlers of the day and the technical impetus behind the Gracie familyís jiu-jitsu. Itoís story illustrates the clashes and excitement that occurred when early judo exponents wrestled American catch-as-catch can wrestlers with money on the line.
The Yamashita chapter is one of my favorites. Yamashita was a man who, as one of the earliest Kodokan students, once fought off fifteen men in a stairwell, resulting in a death, his arrest, and a suspension from the Kodokan. Yet he went on to become a respected high ranking judoka, teaching judo to none other than Teddy Roosevelt (notoriously enthusiastic himself) and to cadets at the US Naval Academy at Rooseveltís urging.
Second Generation
The bulk of the coverage is in this section, beginning with the fascinating story of the Seattle Dojo, then covering the other large dojo in the area (Tentoku Kan), then moving to more minor clubs of the Northwest. The section finishes with British Columbia and a chapter on Pre-War Judo Training. The first two and last two chapters stand by themselves, with enough big names, dynamic history, and interplay to keep me, even as an outsider, interested. The intervening chapters of the smaller dojo were different.
The smaller schools didnít necessarily have famous names or even histories that were much different from one another. Oddly enough, those similarities produced a stronger narrative for me. By telling the stories of these different groups of Japanese Americans, common themes are shown. The reader absorbs the Japanese American experience in the same way the art of judo is learned: your partner may change, but the underlying principles stay the same. These briefer histories all showed the hard life led by the first immigrants, the desire to get their children (who were usually more interested in baseball) into judo for the physical and moral benefits, the inevitable internments as war broke out, then eventually a return to (or abandonment of) judo afterwards.

Conclusion
For me, this book was much more than I expected. I was able to get my interest in the early catch vs. jujutsu matches satisfied by Svinthís well-researched accounts while almost unknowingly absorbing the early 20th century Japanese American experience. Since there is too much to cover in a review, let me just say that this work is like studying a martial art: you may originally pick it up for a different reason, but after study you find it has given you a better understanding of both yourself and others.
For additional reviews and ordering information, see Getting a Grip: Judo in the Nikkei Communities of the Pacific Northwest, 1900-1950.

---