Journal of Combative Sport, Nov 2003

Reviews of "Getting a Grip: Judo in the Nikkei Communities of the Pacific Northwest 1900-1950"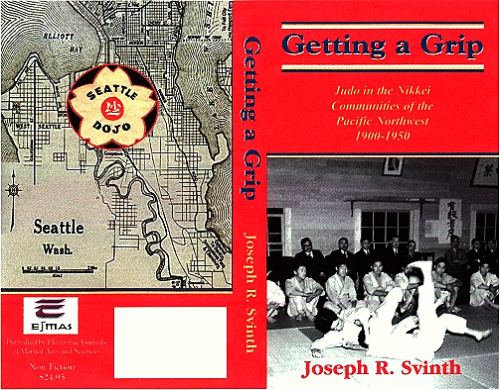 Most martial art history books are written for the audience, by non-historians. Very few are like this one. Firstly, it is written by an historian, who has an appreciation for detail and documentation. Secondly, it is about a topic not much looked at, which is the development of Judo in an expatriate community and how that development was affected by the vagaries of local personalities, social integration or the lack of it with the surrounding communities and culture, economics, rivalries, and the impact of war and larger social transformations. It deals with real people throughout. It is a terrific book from this standpoint, and practically unique. The first 17 pages present a brief synopsis of the history of Judo in general, for the general reader to get acclimated, but even this part of the book presents this through an historian's trained eye, and is first rate; one of the best such presentations of Judo history we have read. An important contribution to the cultural history of the Pacific Northwest, Getting a Grip is an important contribution to Judo history as well. Well written and well organized, this is a captivating look back in time at these small communities of people confronting change, disasters and accommodation with the world around them and seeing how Judo was part of that world. It is a world now, for the most part, vanished, but it is captured and recreated in this book. Just outstanding.
Kim Sol, Judo Bibliography, "Judo Books E-F-G," http://www.bstkd.com/judorev/e.htm
***
You need this book for the clever title alone! Beyond that, it is an excellent history of judo in the Pacific Northwest (PNW), plus it casts a wider net with details of tournaments held between teams from California and the PNW and information on sensei (teachers) from Japan. The text skillfully interweaves newspaper accounts, some by Bill Hosokawa, with oral histories from judoka (people skilled in judo).
Club histories are presented from the Washington communities of Bainbridge Island, Bellevue, Eatonville, Fife, Green Lake, Kent, Seattle, South Park, Spokane, Sunnydale, Tacoma, White River, and the Yakima Valley, and from Oregon and British Columbia. At least one Kooskia internee, Goro Mochizuki, is represented. Technical faults are few, among them being repetitive quotes on pp. 67/86 and 75/163. The reviewer wishes that the index had included subjects as well as names, but has made her own notes about occasional mentions of Chinese people, African-Americans, and "pink houses" (Japanese brothels).
-- Priscilla Wegars, Asian American Comparative Collection Newsletter, 20:3 (September 2003).
---