Journal of Combative Sport, June 2000

Tsuneshi Maruo, A Hawaiian Boxing Champion

Based on a letter from Tsuneshi Maruo to Joseph R. Svinth dated December 4, 1998. Photographs courtesy Curtis Narimatsu. Copyright © EJMAS 2000 all rights reserved.
Ed. introduction: Tsuneshi Maruo was one of three Hawaiians to win a US Amateur Athletic Union (AAU) championship in 1946. (The others were Dave Buna and Robert Takeshita.) As a professional, Maruo's biggest purse -- $2,800 -- came following a 10-round loss to the highly-regarded Manuel Ortega on January 27, 1948. Although most sportswriters viewed that particular match as a mismatch -- Ortega was in a heavier weight class -- Maruo says, "I gave it my all, and I don't regret a thing."
After retiring from the ring in 1949, Maruo took a job as a firefighter at Hickam Air Force Base and married in 1950.
In 1997, at age 72, he was still just 22 pounds over his fighting weight. When a reporter for the Honolulu Advertiser asked him how he did it, Maruo replied, "I drink light beer."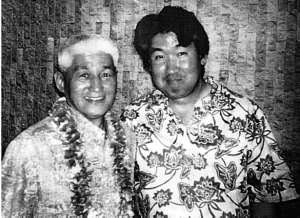 Tsuneshi Maruo and Curtis Narimatsu, 1997
I was born in Honolulu on July 7, 1924. While in the ninth grade at Kalakaua Intermediate School, I became interested in boxing. So I joined the Catholic Youth Organization (CYO) boxing club as a novice.
When World War II started on December 7, 1941, I was a tenth grader at Farrington High School in Honolulu. By this time the CYO club had started interclub boxing matches and we performed at military bases and defense camps. There were no segregated matches, but in 1943 when the AAU (Amateur Athletic Union) started its boxing tournament the boxers who were of Japanese ancestry were separated and had to box amongst themselves and not against boxers of other nationalities. [EN1]
In March 1943 Japanese Americans began to be enlisted into the 442nd Infantry Combat Team. I enlisted while I was a senior at Farrington High School. This school held a special graduation ceremony for the volunteers.
During the war, we took our basic training at Camp Shelby, Mississippi. [EN2] I served as an artilleryman with the 522nd Field Artillery Battalion of the 442nd Regimental Combat Team, and experienced combat in Italy, France, and Germany.
When I was discharged from the service in January 1946, the Hawaii Territorial Boxing tournament was already in progress. My CYO boxing manager, Bill Kim, contacted me and had me start training immediately.
I entered the tournament at about the midway point and won the Oahu and Territorial titles. I represented Hawaii at the Nationals in Boston, and I won the National bantamweight title in April/May 1946.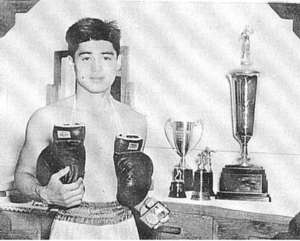 Tsuneshi Maruo after winning the National bantamweight title in May 1946
I signed with Richard Chinen to fight as a pro in May 1946. The contract was for one year. After my one year was over I signed to box with "Sad Sam" Ichinose. [EN3] Sam was Dado Marino's fight manager, and Dado was the No. 1 contender for the flyweight title. They were on their way to England to fight Jackie Patterson for the title, so I accompanied Dado as his sparring partner. In the same group were middleweight Tom Blondin, welterweight Robert Takeshita, and flyweight Baldwin Okamoto. [EN4]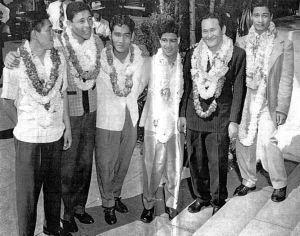 Left to right: Baldwin Okamoto, Tommy Blondin, Robert Takeshita, Tsuneshi Maruo, "Sad Sam" Ichinose, Dado Marino, upon return from Europe
As an amateur I fought novice flyweight and bantamweight. Between 1941 and 1946 I had a total of 32 fights: 30 wins, 1 loss, and 1 draw. As a pro, I fought as a bantamweight. My first pro bout was on June 14, 1946 and my last was on April 12, 1949. I had a total of 21 bouts, and my record was 15 wins, 4 losses, and 2 draws.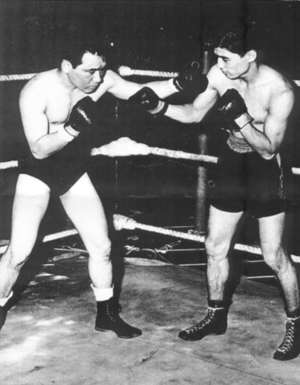 Tommy Umeda and Tsuneshi Maruo
---

UPDATE: In August 2003, we received this note from Herbie Patzer, who fought as a welterweight throughout the Pacific Northwest during the 1940s and 1950s.

I fought Maruo in his first fight at the national AAU. I was the Oregon champ at the age of 16. You can imagine my surprise when this "old" 21-year-old came across the ring before the start of the fight and placed a lei around my neck. This ceremony was unknown to me, and I must say that it unsettled me. He won a decision from me, and then went on to win the rest of his matches, which included Wallace "Bud" Smith.

I recall that the Cherry Point, North Carolina, Marines also had a very good team. In my opinion, 1946 was among the great boxing championships in AAU history, due to the large group of servicemen.

Later, I fought professionally in Portland, Oregon, and Butte, Montana. In Portland, I was working out at the time Bobo Olsen and Eddie Chavez were fighting for Sid Flaherty. Olsen was a real smooth fighter, and except for a chin that was not the best, he would have been a longtime champion.
---
Editor's Notes
EN1. According to the Honolulu Star-Bulletin (June 23, 1943), "Following a recent boxing match in which a Japanese appeared against a fighter of another race, the lessees of the Civic auditorium, where the match was held, were told to go to Ft. Shafter and were there informed in emphatic terms that if they permitted another such match, they would be held 'strictly accountable.' It was implied they would be severely penalized. The match was that of Yasu Yasutake vs. Whitey Robbins on May 30. Yasutake won by a knockout in the second round. There was no special demonstration for or against the winner or the loser. Each got the usual 'hand' at the conclusion of a thrilling match." Army Military Intelligence was not amused, but the sportswriters were outraged: "All these Nipponese boxers, Japanese by race, are American citizens and have been accepted as such." Nevertheless, the AAU kowtowed to the Army, and in 1943 and 1944 the Hawaiian Territorial championships were divided into "Section A" and "Section B", with "Section B" being Japanese Americans and "Section A" being everyone else.
EN2. According to an article published in The Ring in 1944, Maruo also boxed while in Mississippi.
EN3. At the time Chinen alleged that Ichinose stole Maruo, but later admitted that Maruo needed Ichinose in order to gain national rather than regional exposure.
EN4. See also "Robert 'Ripper' Takeshita" at http://ejmas.com/jcs/jcsframe.htm.