Journal of Combative Sport, Sept 2000
A California Nisei Boxer: Thomas Yamaoka

By Thomas Yamaoka, edited by Joseph R. Svinth
Copyright © EJMAS 2000. All rights reserved.
Ed. note. This article was compiled from letters dated December 14, 1998 and October 4, 1999. The photographs are courtesy Thomas Yamaoka. The editor wishes to acknowledge the assistance of Brian Niiya and the Japanese American National Museum.
I started boxing in the Poston Relocation Center, in Arizona, during World War II. [EN1] I was about fourteen years old, so this must have been early 1943. The reason I started was that in the camp I had nothing better to do.
During late 1944 or early 1945, I received a scholarship to the University of Utah. The reason was Iíd tested high on tests given in camp. At the University I continued boxing, and in 1945 I won a tournament in Salt Lake City. After that I went to Denver for the Rocky Mountain tournament. I lost in the finals.
In 1946 I won another tournament held in Twin Falls, Idaho. As a result, I got to go to the tournament of champions held in Chicago at the Chicago Stadium. There were so many contestants that half fought the first night and half fought the second. Despite starting the fights at 4:00 p.m. and keeping three rings going all night, the matches didnít end until 4:00 a.m. As for spectators, the line to get in stretched around the block. When a hundred people left they would let another hundred in. Iím told there were 18,000 people in attendance.
After that I fought all over. I never kept track of my record, but figure I must have had at least 200 amateur bouts. There was still a lot of prejudice toward Japanese Americans in those days. The folks in Salt Lake City were okay, but in Ogden, Denver, and Twin Falls the crowds yelled, "Kill the Jap!" and other derogatory things. To avoid this problem the promoters would bill me as an Eskimo. But as a result I never won any split decisions or close fights.
I turned pro after winning the Catholic Youth Organization tournament in Los Angeles in 1946. While I have no idea what my record was, Iíd guess I had about 90 pro fights. However, when I went to New York I discovered that The Ring only listed about 25. The reason was that most of my fights were in places like Phoenix, Mexicali, and Tijuana, and Ring didnít keep track of fights in places like that. Even Las Vegas, which is big-time today, was a tank town back then -- Nevada had a boxing commission, sure, but when I fought in Las Vegas the bouts took place at a skating rink known as the Mapleway Arena.
Meanwhile, in California I often fought in two different arenas on the same night. For example, I would fight at the Southwest Arena located at 54th and Western in Los Angeles and then jump in the auto without changing and then fight the same night at the South Gate Arena at Atlantic and Firestone. Another sample two-fight night would be to fight first at Jim Jeffriesí Barn and then at the Pasadena Arena.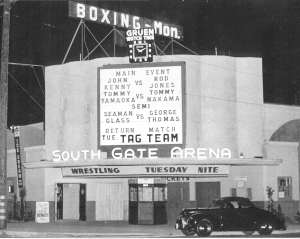 Tommy Yamaoka vs. Tommy Nakama on a double main event card at the South Gate Arena.
Probably lots of these professional bouts were televised. Unfortunately, I was never able to find a copy of a televised bout to get put onto videotape. As I understand it, the Rinoscope film they used back then was very expensive, so the station would keep the fight films for about a week and then film the next fight right over the last.
In California, I trained at Saugus Pop Sopersí training camp with Luis Castillo when he challenged Manuel Ortiz for the bantam title. In the return match I went to Ojai to train with Ortiz. I was a sparring partner for bantamweight champion Harold Dade, flyweight champion Dado Marino, and middleweight Jimmy Doyle. Others with whom I sparred included Carlos Chavez, Cecil Schoonmaker, and John Thomas.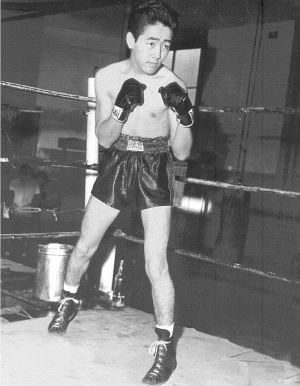 In New York City, I trained at Stillmanís Gym. [EN2] Every workout there was like a fight in California. New York was a "no-foul" state, so low blows were prevalent. As a result, the guys were twice as tough.
The highlight of my career was beating Alfredo Chavez at the Hollywood Legion. At the time, Chavez was ranked No. 1 in the world and had just fought Terry Allen in London for the flyweight title. Yet, despite that victory, Ring never ranked me. The problem was that they didnít know where to classify me. The reason was that I would fight at any weight between 115 and 130 pounds.
The most famous story told about me, however, is the one about the time I forgot to put on my trunks. What happened is that you had to have purple-and-blue or red-and-purple trunks in your bag. Once at the arena, after they checked your mouth guards, hand bandages, and cups, the commission people would tell you which trunks you were going to wear. So you had on your robe but not your trunks until just before the fight. Fortunately, I always wore tights under my cup because if I didnít I would get a rash from the leather. So, did I forget, and go into the ring without my trunks? Yes. Was I naked? No. Still, it made quite a story in the local papers.
Back then, fighting a main event paid maybe $1,500. So the pay was okay. But I still retired from the ring in 1952. The reason was that my reflexes were gone. After that I went to work for General Electric, where I eventually became the first non-Caucasian to hold an executive position (auditor).
Yamaokaís statement that The Ring never ranked him is not quite true, as in its February 1949 issue the magazine rated him as a Class 2 bantamweight. So, while he was not in the top ten, he was still well regarded enough to become the first California Nisei to earn main-event status as a boxer.
---
EDITOR'S NOTES
EN1. "Relocation center" is the official US government euphemism for the concentration camps to which it sent Japanese Americans during World War II. Poston was located about twelve miles south of Parker, Arizona, on the Colorado Indian Reservation. The local Apaches protested the use of their land for this purpose, not wanting to see others suffer the same injustice as they had suffered, but as usual the Army and the Bureau of Indian Affairs overruled them. The Poston building contractor was Del Webb, who had just finished building Luke Air Force Base and would later build Sun City. Visitors to Poston included newsman Chet Huntley, then of CBS News. For a description of the site, see Jeffery F. Burton, Mary M. Farrell, Florence B. Lord, and Richard W. Lord, Confinement and Ethnicity: An Overview of World War II Japanese American Relocation Sites (Tucson, AZ: Western Archaeological and Conservation Center, National Park Service, 1999). For hundreds of online photos of wartime Poston, go to http://www.nara.gov/nara/nail.html; next, go to NAIL standard search and use the keyword "Poston."
EN2. Stillmanís Gym was located at 919 Eighth Avenue in New York. Open seven days a week, including Christmas and Yom Kippur, its notable features included its smell, which writer Sam Toperoff said included every foul male odor ever made, and its pistol-packing gym manager Lou Ingber, who legally changed his name to Stillman and treated every fighter, champion or bum, the same -- badly. There was room around the gymís two main rings for about 200 spectators. Fans, reporters, and trainers piled in for a 25¢ fee to watch up-and-coming fighters and former champions train. Stillmanís closed in 1959, a victim of televised boxing and the middle-class exodus to the suburbs. Selling the gym, Stillman told reporter Al Braverman several years later, was the worst thing he ever did, as it left him with nobody to talk to, nobody to abuse.