Journal of Non-lethal Combatives, March 2000
The Sentiment of the Sword: A Country-House Dialogue,
by Sir Richard Francis Burton, edited, with Notes, by A. Forbes Sieveking (London: Horace Cox, 1911)
INTRODUCTION
As a book, Burton's The Sentiment of the Sword is comparatively rare. For example, it was not listed in Fawn Brodie's bibliography of Burton's works and the Library of Congress does not list it in its online catalogue. Therefore it has been reprinted here almost in its entirety. (Exceptions included the omission of an index irrelevant to an online document and a preface by Theodore A. Cook that had little to say.)
Structurally, The Sentiment of the Sword is not an easy book to read, as the prose is Victorian, there are no illustrations, and the author assumed readers were fluent in French and conversant in Latin. Nonetheless, Chapters 6 and 7 in particular contain much of interest to the modern swordsman while Chapter 2 provides a good introductory history of French and Italian schools of fence. And of course gems of insight sparkle throughout.
Please include attribution to http://ejmas.com whenever citing this text, unless of course you have a copy of the original book or its manuscripts. The text used here was provided by Paul Nurse, Ph.D., and keyboarded by Joseph R. Svinth. Linkage to these sites is authorized, but copying the text to your site without the permission of the editor will be viewed with considerable disfavor.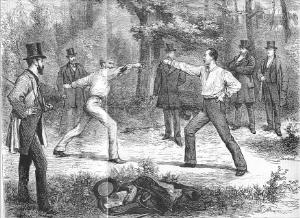 TABLE OF CONTENTS


Foreword by Editor (A. Forbes Sieveking)
Introduction
Point and edge amongst Ancients and Primitive Peoples
History and Development of Sword
Early Fencing Treatises and Technicalities -- Simplification -- Italian school and Names of Parries -- Natural Parries -- Lines and Attack and Defense
How to Teach Fencing
THE SECOND EVENING
The Audience
Fencing for Women
English Dilettantism
Treatises -- The Alphabet and Language of the Sword
Fencing in the XVth and XVIth Centuries -- Early Italian, French, and German Writers
Spanish School
Early Neapolitan and Italian Schools
Giuoco Misto of Modern Italians
Bologna City and Fencing
Blasco Florio on Spanish, Neapolitan, and Sicilian Schools
Ariosto and Tasso on Duels -- French System
Aspects of French Fencing
Locke on Fencing -- Utilitarianism
Bazancourt on the Strength of a Swordsman
The Natural and Artificial Systems
THE THIRD EVENING
Bayonet Exercise
Attacks and Parries, Simple and Compound
Same Elucidate
Ditto
Cardinal Virtues of Sword
Practical Demonstration of Lesson
Ditto
Axioms of the Science
THE FOURTH EVENING
Prelude
Method of Instruction
Disadvantages and Delays of Old Systems
Buffon and Style -- in Fencing
Ditto
Heresy
Platron-work
Ditto
THE FIFTH EVENING
The Assault: Its Axioms and Faculties
Upper and Lower Lines
Ditto
Girard Thibaust and Face Thrusts
The Retreat
Ditto
The Universal Parry -- Individuality in the Parry
The Ripost and Remise
Summing-up
THE SIXTH EVENING
Le Sentiment du Fer
"Giving the Sword."
Ditto
Le Sentiment du Regard: Thibaust
Combination of Both Sentiments
The Pressio, Flanconnade, Battement, and Croisé
The Academic v. The Natural Fencer
Grace and Inspiration
Origin of the Foil; the Plastron and Mask; Jacket, Shoe, and Glove; Leather Armour
Feints
THE SEVENTH EVENING
Frenchman v. Neapolitan
Attacks
A Fatal Habit -- Remaining on Guard -- Bayonet Exercise
The Stop-Thrust and Time-Thrust
Bottes Secrêtes and Coup de Jarnac
Misjudging an Enemy -- Cowardice and Nervousness
The Unbuttoned Weapon
The Gaucher, or Left-handed Fencer
Self-consciousness and Savoir faire
THE EIGHTH EVENING
Prelude
The Relative Merits of Sword and Pistol
English Feeling about the Duel
Fencing and Personal Utility
Duties of a Second
Parrying with the Left Hand, and other Irregular Parries
Responsibilities of a Second
The Corps-à-Corps -- Fair Play
The Right to Rest in the Duel -- The "Point of Honour"
A Succession of Duels
THE NINTH EVENING
Means of Attack and Defence -- Youth and Age
Length of Arm
Degrees of Proficiency in Arms
Neophyte's Preparation for Duel -- The Instinctive Position: Beauty on Guard
Phrenology and Character -- "Defend and Threaten," i.e., Retreat and Extend Sword
Lunge to the Rear
Advice to Pupil of Moderate Skill in Arms
Analysis of Process -- Mastering Opponent's Sword
The Man of Sanguine Temperament
Where Both Combatants Equally Skilled -- Distrust Your Adversary -- The Foil that "Buttons," and the Point that Kills
Conclusion
JNC Mar 2000