Journal of Theatrical Combatives Dec 2003
Agent Cody Banks is Back!

AGENT CODY BANKS 2: DESTINATION LONDON
Photos by Jay Maidment.
Frankie Muniz returns as a super-cool spy in Agent Cody Banks 2: Destination London. A rogue CIA agent (and Cody's own trainer) has stolen a top secret mind-control device, and Cody has to go undercover in London to get it back. Posing as a student at an elite music boarding school, Cody has to keep other kids from discovering his true identity while infiltrating covert hideouts, tracking his target – and practicing the violin. With all-new gadgets, high-flying comedy, a wisecracking new handler (Anthony Anderson), and a hip British Secret Service counterpart (Hannah Spearrit), Cody has to fight the toughest enemy possible – the very man who taught him everything he knows.
And who taught Frankie Muniz what he needed to know for this movie? That would be Stunt Coordinator Jim Dowell and his team as they took Frankie through most of his own stunts for the film. Jim gave JTC some insights into the world of theatrical combatives at MGM as Agent Cody Banks 2 was being filmed. We hope you enjoy the ride!

Says Jim: Frankie Muniz did most of his own stunts for the film. He prepared for his role by learning gymnastic and specific fight sequences, as well as "flying" through the air on wires at a gym set up on one of the stages at the studio.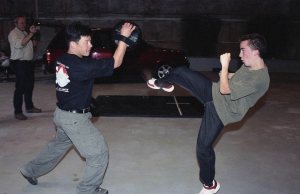 Frankie Muniz works with a trainer for his return performance as Cody Banks.
For one particular fight scene, Frankie had to be hit and fall back through a breakaway barrier from the 4th floor. A rostrum with a catch rig about 8 feet below the barrier was built. While many actors would have been apprehensive about the potential drop below, Frankie just looked at it and said "okay", and the scene was shot in one take.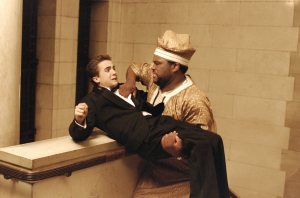 Derek ( Anthony Anderson) shows Cody Banks who's boss.
During the chase scene involving Frankie, Anthony Anderson, and Keith Allen, they enter a construction site. Frankie launches himnself at a platform being lifted over an impassible barrier. As he is about 20 feet off the ground, Keith fires a rocket at the barrier directly beneath Frankie. A body double had always been planned to do the explosion shot, but Frankie said he was up for it. I made a couple of adjustments to the timing of the special effects explosion, used Frankie in a simultaneous wide and close up and got a much more exciting shot!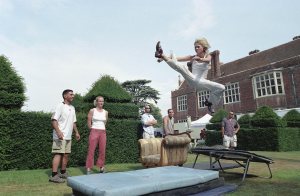 Hannah Spearritt trains for her fight scenes as Emily.
Another sequence involved Frankie running through the woods - he takes out four fierce commando-type guys without a problem. The second pair of commandos were quite close to camera and I had rehearsed a couple of moves where he takes them out one after the other. Frankie then said to me he could do a leap in the air with a simultaneous splits-type kick and then land on his feet and keep running. I was a bit skeptical about that, but he warmed up and showed me the kick. Both feet came up to head level - I was impressed! We did the shot with the two guys taking the simultaneous kicks in 2 takes (we printed the first one) and moved on.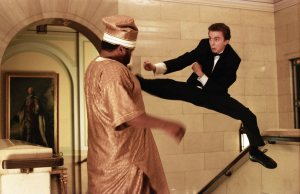 Cody Banks shows Derek his lightning-fast fighting skills.
In another scene Anthony Anderson turns up on a tiny motorcycle in the nick of time for a rescue. This was meant for his double to do a running mount onto the bike as it is moving past him. We rehearsed it with doubles, shot it from the back with doubles, and then Frankie came right out and did the jump himself.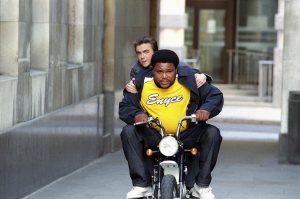 Cody and Derek take a wild ride through London
For the final fight in the Queens gift room, the room was packed with all sorts of manufactured breakaway props. We had pikes dropping from a rack which Frankie narrowly manages to roll away from. We had breakaway guitars, vases, glass display cases, elephant tusks and more - and almost all of it was smashed by the time we finished.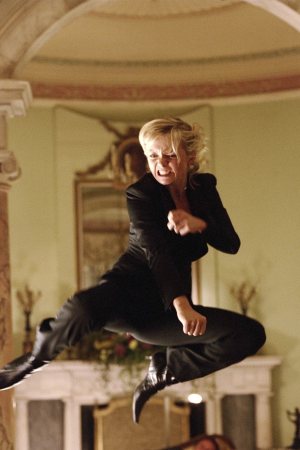 Emily (Hannah Spearritt) gets physical.
And they say making movies is easy! Agent Cody Banks 2: Destination London is from MGM and scheduled for release March 12, 2004. The movie features Frankie Muniz, Anthony Anderson, Hannah Spearritt, Cynthia Stevenson, Daniel Roebuck and Keith David. It's directed by Kevin Allen from a screenplay by Don Rhymer and story by Harald Zwart & Dylan Sellers and Don Rhymer.
For a preview of the movie you can link to www.futuresecretagent.com and for more information on MGM go to www.mgm.com
---