The Iaido Journal July 2001

Kendo-World Magazine in Development
It is with great pleasure and excitement that we announce the planned production of the world's first international English language magazine dedicated to the Japanese sword arts. Until now, the international Kendo community has relied on the odd article found in dubious martial arts mags, or a few local Kendo federation newsletters, or a scarce supply of Kendo books which cover the basics again and again but rarely delve into the 'juicy' grey areas of philosophy and the latest Kendo gossip. Naturally in Japan there is an abundance of reading materials and 8th Dans to keep the avid Kendoka busy for a lifetime (if you can read and speak Japanese), but the international Kendo community does not have this luxury. We plan to rectify this situation and satisfy the world's desire for Kendo information.

We aim to create a magazine which caters for all levels of Kendoka covering wide areas of Kendo not readily accessible outside of Japan. Some of the content will be academic in nature, some will be technical, and some will be philosophical. We will be including interviews with some of the great masters in Japan, profiles of dojos and Kendoka all around the world, various surveys and results through reader participation, CD rom videos of the all Japan Kendo Championships and other major tournaments with player profiles, specialist views (8th Dan) on designated subjects, Iaido, Jodo, Naginata, and Koryu corners, information on international seminars, tournament results, and so on… Whatever the case, our goal is to include something of interest for everyone.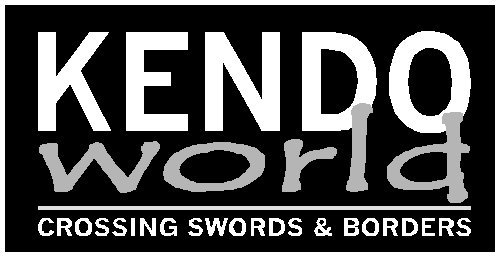 Who are we, the people behind this project? Dr. Alex Bennett has just completed his PhD at Kyoto university in Japanese martial culture. He has been living and training in Japan for over 13 years and currently holds the rank of 5th Dan in Kendo, 4th Dan in Naginata, and 3rd Dan in Iaido. He also studies the classical budo styles of Tendoryu Naginata-jutsu, Hoki-ryu Iaijutsu, and Katayama-ryu Kenjutsu. He is also a director of the International Naginata federation and represents New Zealand in Kendo and Naginata.
Hamish Robison has also spent a number of years in Japan training and studying, including a one year stint at the International Budo University specialising in Kendo, Naginata and sports training. He holds the rank of 4th Dan in Kendo, 4th Dan in Naginata, and 3rd Dan in Iaido. He also studies Tendo-ryu Naginata-jutsu, Hoki-ryu Iaijutsu, and Katayama-ryu Kenjutsu.
Both of us are privileged to have direct access to many great budo masters and their teachings, and feel that we are qualified to act as facilitators between Japan and the International Kendo community. The International Kendo Federation, the All Japan Kendo Federation, and the Kendo Jidai magazine have all pledged their support in this project and will be helping us gather as much interesting information as possible to include in the pages of 'Kendo World'.
This is our first attempt at putting together a magazine of this scale, and we are feeling our way as we go. Having said that are determined to make it a great success and important contributor of information to the international Kendo community. We hope that anybody interested in Kendo will offer us their support to make this project work. Please check out our web page at www.kendo-world.com.