A Couple of Kanto boys in Queensland...
Queensland, more particularly the sugar cane producing city of Mackay and the tourist filled streets of Surfer's Paradise have two pearls of Japanese culture and martial tradition.
In both cities there are two Japanese men, and their families, who left their native Japan to find new lives Downunder. They brought with them Kendo, Iaido and Jodo. Under their tutelage are young Australian men and women--doctors, lawyers, internet technologists and university students who, for their own personal reasons have an interest in the arts and recognize the great opportunity they have before them in trainingÖ
I had only briefly heard mention of Tsukadaira sensei once during my early travels in Australia and admittedly had forgotten the mention of him. Once I arrived in Brisbane I met one of his students Greg, who traveled the hour and half drive twice a week from Surfer's Paradise to Brisbane in order to train with John Isaacs. Greg invited me to train in Surfer's Paradise with Tsukadaira sensei so it was a matter of catching a train, getting picked up, and then heading back to Brisbane the next day.
Tsukadaira didnít know I was coming, but after introducing myself and asking permission to train with his class he said calmly 'Of course, please.'
Among the various settings under which I had trained in Australia this was the most similar to my home dojo in Tokyo. After entering the training area we bowed in on our own time, warmed up on our own and went into training at our own pace. It was an hour and a half of free training during which Tsukadaira sensei would, between sets of his training, move among his students and give them pointers and advice. Greg mentioned that this was not the typical class format so I wondered if Tsukadaira sensei had taken this training format because a guest was present. I did notice however that he focused on his wife Hiroko, a new Iaido student for most of the class time; besides Tsukadaira sensei there were four of us training that night.
Tsukadaira sensei didnít offer any advice on my iaido. Later, when he realized that I practiced Muso Shinden ryu he came around and we talked about our teachers in Japan. Tsukadaira senseiís original teacher was the father of Shizufumi Ishido sensei of Kawasaki city, in Kanagawa prefecture. Ishido sensei is one of the finest martial arts instructors Iíve met to date. Itís probably safe to assume that his father is an equally superlative instructor and martial artist.
During the remainder of the class I went through the Shoden and Chuden sets of MSR with the hope that Tsukadaira sensei would point out any differences between our forms. By and large most forms were similar except a very interesting Seichuto form from the Shoden set.
In Seichuto one sits in seiza facing left of shomen. From a standing/walking position and using a jodan cut the enemy attacks (from shomen). Once having noticed the enemy approaching, we pivot and draw towards shomen. I had been taught to cut clear across the wrists/lower arms of the enemy while Tsukadaira sensei cuts down from jodan. Tsukadaira sensei draws the sword from the left side of his body rather than the center, and he cuts slightly across and down onto the right hand of the enemy, like a kote strike. His Seichuto is similar to the Eishin equivalent Tsuki kage.
Of course, I would have enjoyed training with Tsukadaira sensei more than once but the timing of my visit and the schedule of my journey kept me moving on and back into Brisbane. Tsukadaira sensei is a quiet man; far from the boisterous, outgoing personalities of the people Iíd met so far in Australia. Despite the short training time it was refreshing to have been in an atmosphere so similar to the one in which I had trained back in Tokyo.
---
Australian Kendo Federation people across the country who have met or know Katsumi Kuramochi sensei share an equal fervor in describing the man as 'gorgeous', which in this country and in this particular situation means the man is one heck of a nice guy.
Indeed, he is soft-spoken, gentle, kind, and warm-hearted. His wife Machiko and daughter Mika are probably the main reasons Katsumi is so amicable; I sensed they were the bright lights in his life: the source of his pride and joy. The Kuramochi family was kind enough to let me hang around them for four days. I appreciated the chance to use my rusty Japanese and eat Japanese food too.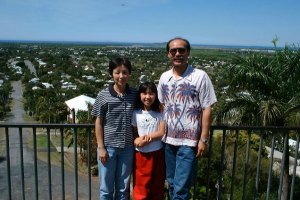 We also took a couple of day trips in and around the Mackay area. One day we had lunch on the beach; on another day we drove out to the rainforest park of Eungella, to view the two waterfalls of the Finch Hatton gorge.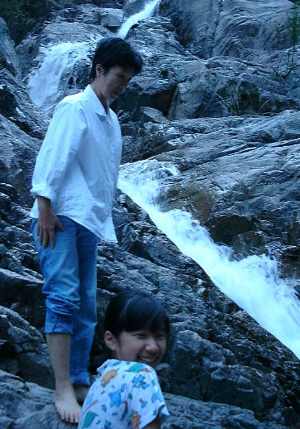 My journey had kept me directly associated with things Japanese and that was good for me: I slowly adjusted back to life in the western world, but remained close to the things that are important to me. The Kuramochi family also reminded me that expatriates donít have to abandon everything from their own culture: They speak Japanese and eat Japanese food in their home. But of course they live in wonderful Australia, under the vast expanses of sun, sand, and land. They enjoy lower prices, bigger homes and a better education system for their daughter. They admit missing Japan at times but realize how improved their lifestyle has become. Although it hasnít been easy for Katsumi to find solid work they have managed to live a reasonable and happy life. Theyíve been able to live around Australia, following work opportunities. Throughout these times Kuramochi sensei has been teaching both Kendo and Iaido to Australians, from Ballarat to Mackay. Now they live in Cairns. Katsumi is a wonderful man, and his experiences across Australia have made him a well-known and respected instructor.
We trained together four times, twice introducing Iaido for the first time to his Kendo students. Memories of my first days with the sword came flooding back, thankfully so because those memories helped me to understand how Katsumiís Kendo students would begin learning Iaido. Katsumi's students were tenacious, quick learners. Their Kendo training shone through in their ability to pick up Iaido. I imagine that Katsumi now has his hands full trying to meet the demands of his Kendo and Iaido practicing students!
On our last day of training Katsumi and I went through the Shoden and Chuden sets of Muso Shinden ryu. Although it was an early morning at the end of winter, the heat of the Tropics bore down on us. The training was excellent but I needed a break; the usual focus was off and my body, for the first time in a long while, had asked me to slow down. So it was with pleasure that I completed that final bit of training because I knew I'd be heading to the Whitsunday Islands for a sailing tour for a few days. That was my opportunity to rest from the training and web site maintenance for a short week.

Katsumi Kuramochi and some of his students in MacKay