The Iaido Journal Nov 2000
A Pre-WWII Kendo Helmet from Northern California
Introduction by Joseph R. Svinth, photos by Anna Bosler.

Copyright © 2000 EJMAS. All rights reserved.

All North American kendo clubs closed immediately following the Japanese attack on Pearl Harbor in December 1941. The reason was that within a few hours of the attack the FBI and Royal Canadian Mounted Police had begun arresting kendo club leaders and organizers on suspicion of being agents of a foreign government. Justification for this act included a book by Ikken Momii called Hokubei Kendo Taiken ("North American Kendo Clubs"). Published by the Hokubei Butokukai ("North American Martial Virtue Association") in San Francisco in 1939, this 1,200-page document included photographs of important Japanese including the ultranationalist Mitsuru Toyama, calligraphy by these same Japanese, and the photos and home addresses of dozens of North American kendo leaders.

The US and Canadian governments simultaneously passed legislation prohibiting people of Japanese descent from possessing swords or firearms; so much for the so-called rights of citizens and resident aliens to keep and bear arms. As a result, training equipment and trophies were hidden away or destroyed. Similarly, ancestral swords were buried or turned over to the police. As Frank Chuman of Los Angeles told journalist Bill Hosokawa, "Disposal of these beautiful pieces of Japanese workmanship seemed to be a symbolic rite. It was as though a tangible cultural tie with Japan were being severed."

The following pictures show one remnant of this severing of cultural ties, namely a kendo helmet (men) found at a Northern California thrift store by EJMAS reader Anna Bosler. According to the storeowner, the helmet had been hanging in a local man's garage for fifty years, so it dates to the World War II era. Unfortunately there are no identifying marks on or inside the helmet, so the original owner is not known. Anyone with further information is therefore requested to write the editors at jsvinth@juno.com.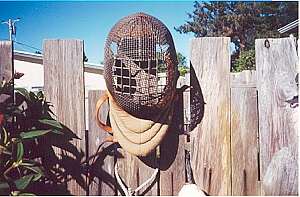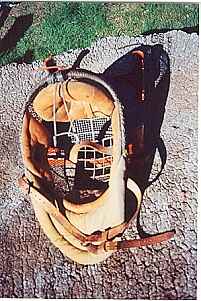 ---
Editor's note: We have since found out that this style helmet is in fact a bayonet helmet.