Physical Training July 2004

By Tracy Orzechowski
How to Get the Most Out of Your Cardio Workout
Ever feel like you're just wasting your time doing endless hours on the cardio machines? Or not really training to your potential? Well with Summer fast approaching its time to kick start your cardio routine to get that "beach body". First of all you need to make sure you're training in your ideal heart rate zone.
Most cardiovascular machines are now equipped with metal handles that take your heart rate, but if you don't have access to one you can purchase hand held devices or more complex equipment such as the chest strap and wrist heart rate monitor from Radio Shack or Walmart, ranging in price from $39 to $200.00.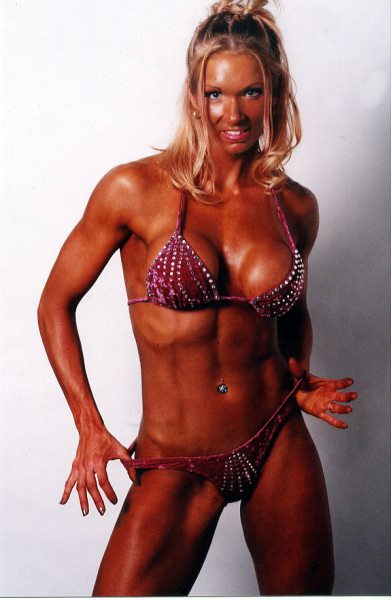 One method of finding your zone is known as the Conservative Method

This formula is as follows:

Target Heart Rate = 220 – Age x Range

Example: 220 – 25 x 60% = 117

Range varies from Beginners to Advanced Athletes. Here are the recommendations:

40-60 % Range – Beginners
60-80% Range - Intermediate
80 + % Range - Advanced

Another method is known as the Reserved Method. To use this formula you need to take your pulse for 10 seconds and multiply by 6 to give your resting heart rate – beats per minute.

The formula: 220 – Age – Resting heart range x Range + Resting Heart Rate
(This formula is more accurate as it uses your own body's rhr in the formula)

Example: 220 – Age – 75 x 60% + 75 =

Always begin each cardio session with a 3-5 minute warm-up.

This will allow the body to:
Slowly get the heart rate increasing by 40-75 beats per minute
Allow to screen for injuries/well being
Prevent onset of early fatiguing
Reduce lactic acid build up (cramping/pain that prevents you from continuing)
Benefits of Cardio:
Lower Resting Heart Rate (Ideal Range 70bpm for men, 75 for women)
Help prevent cardiovascular disease
Maximize caloric expenditure
Lower blood pressure
Beginners should complete 1 –3 sessions weekly for 15-30 minutes
Chicken Gumbo

This is a heart friendly recipe for the whole family.

1 tsp vegetable oil
1/4 C flour
3 C low-sodium chicken broth
1 1/2 lb chicken breast, skinless,
boneless, cut into 1-inch strips
1 C (1/2 lb) white potatoes, cubed
1 C onions, chopped
1 C (1/2 lb) carrots, coarsely chopped
1/2 medium carrot, grated
1/4 C celery, chopped
4 cloves garlic, finely minced
2 stalks scallion, chopped
1 whole bay leaf
1/2 tsp thyme
1/2 tsp black pepper, ground
2 tsp hot (or jalapeño) pepper
1 C (1/2 lb) okra, sliced into 1/2-inch pieces
Yield: 8 servings
Serving size: 3/4 cup
Each serving provides:
Calories: 165
Total fat: 4 g
Saturated fat: 1 g
Cholesterol: 51 mg
Sodium: 81 mg
Total fiber: 2 g
Protein: 21 g
Carbohydrates: 11 g
Potassium: 349 mg
1. Add oil to large pot and heat over medium flame.
2. Stir in flour. Cook, stirring constantly, until flour begins to turn golden brown.
3. Slowly stir in all broth using wire whisk. Cook for 2 minutes. Broth mixture should not be lumpy.
4. Add rest of ingredients except okra. Bring to boil, then reduce heat and let simmer for 20–30 minutes.
5. Add okra and let cook for 15–20 more minutes.
6. Remove bay leaf and serve hot in bowl or over rice.
---
Tracy Orzechowski is a 24-year-old Fitness enthusiast who's been competing in Fitness Competitions for the past 4 years. She is 5' 7" tall and weighs 140 lbs. competition weight, and 150 lbs. off-season. She is currently qualified to compete at the Canadian National Level competitions and is presently looking for opportunities for print work and fitness modeling. Tracy is a contributing writer to Bodybuilding.com and Physical Training: Fitness for combatives and is seeking a contract with a supplement company and modeling agency to help pursue her passion and love for the sport. Her competition goal is to compete and place top three at the 2003 Canadian National Fitness & Figure Championships. Tracy states: "I encourage everyone to set goals for themselves and to believe that you can do anything you set your mind to with patience, persistence and determination." Her hobbies are; working out, hiking, reading, and watching movies.
Competition History:
1999 Ontario Natural Bodybuilding & Fitness Championships – 3rd Place
1999 Western Ontario Bodybuilding & Fitness Championships – 1st Place
2000 Ontario Bodybuilding & Fitness Championships
2001 Festival City Bodybuilding & Fitness Championships – 2nd Place
2001 Ontario Bodybuilding & Fitness Championships – 3rd Place Tall Class
2002 Northern Ontario Fitness Championships – 2nd Place
2002 Ontario Bodybuilding & Fitness Championships
2002 Eastern Ontario Bodybuilding & Fitness Championships – 1st Place
2002 Western Ontario Bodybuilding & Fitness Championships – 2nd Place
Upcoming Competitions for 2003:
2003 Canadian National Fitness & Figure Championships
Web page: www.tracystar.com.
---
Our Sponsor, SDKsupplies